Yacht Rental in Cyprus
Holidaying in Cyprus, one of the largest Mediterranean islands, is a guaranteed success. The weather, the history, the amazing beaches and picturesque landscapes as well as the delicious food can offer the perfect holidays for locals and foreigners.
The island has so many beautiful corners, breathtaking views and golden beaches that are better explored by boat. Afternoon yacht trips in Cyprus give renters the chance to witness astonishing sunsets, especially in Paphos. Moreover, yacht rental in Cyprus allows people to discover more areas that are otherwise hidden.
Learn more about the top destinations for yacht rental in Cyprus and enjoy your holidays at the island's most beautiful locations.
Luxury Holidays in Cyprus
Holidays in Cyprus could be even better with a yachting experience. You can explore the beautiful beaches, bays, caves and coves of Cyprus from the privacy, safety, and luxury of a yacht or boat. Larnaca, Paphos, Pernera and Latchi harbours as well as the luxury Ayia Napa and Limassol marinas are home to an extensive list of yachts, catamarans, and motorboats.
Yacht rental in Cyprus is becoming more and more popular amongst locals and foreigners because it is an unforgettable experience that many choose to do again and again.
Yachts for Rental or Charter in Cyprus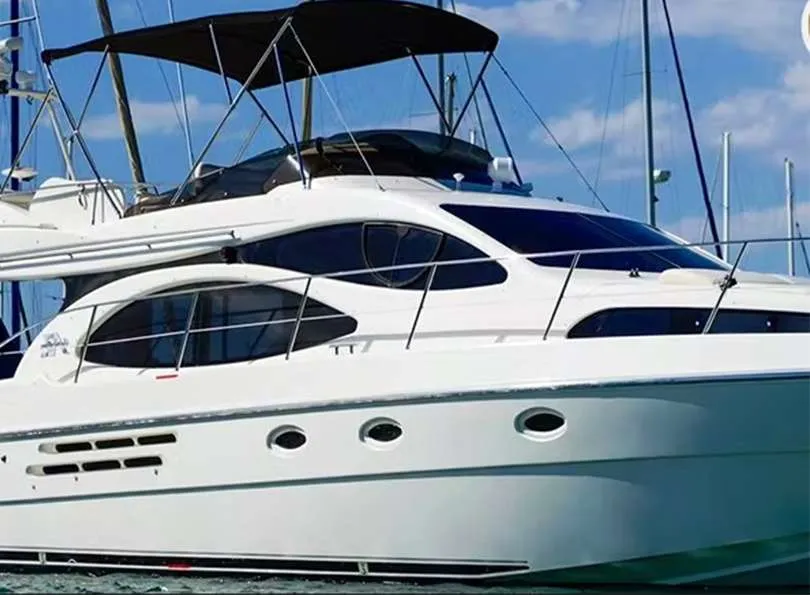 Azimut 46 – Luxurious Motor Yacht
Location: Larnaca Marina

Capacity: 20 people
Berths: 6
Cabins: 3
Length: 15 m
Charter or self-drive rental
From €3000 per day
Sea Ray 375  – Luxurious Motor Yacht
Location: Pernera Harbour
Capacity: 11 people
Berths: 4
Cabins: 2
Length: 11.6 m
Charter
From €2000 per day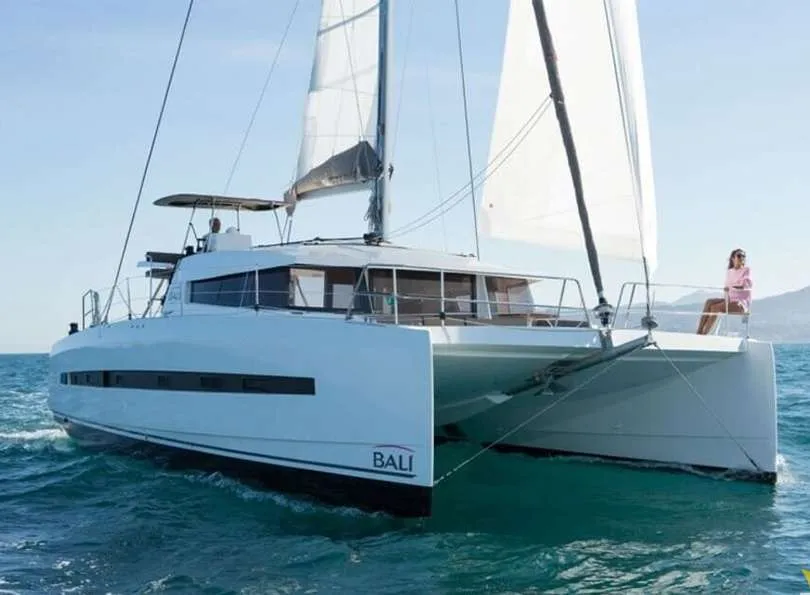 Bali 4.1 – Cozy Catamaran
Location: Ayia Napa Marina
Capacity: 8 people
Berths: 2
Cabins: 1
Length: 12.2 m
Charter
From €2000 per day
Bavaria 41 – Elegant Yacht
Location: Latchi Harbour
Capacity: 8 people
Berths: 6
Cabins: 3
Length: 12.35 m
Self- drive rental
From €1400 per day
Our Yacht Rental Team in Cyprus
Our aim is to find the perfect yacht for you to rent based on your needs. We have a variety of yachts, catamarans and motorboats for you to choose from whether you want to sail on your own or with a professional skipper. Of course, each trip and each client is different so you can add more services to your yacht rental in Cyprus based on your preferences.
We are committed to our clients' entertainment and safety as well and we follow the safety protocols strictly. No matter the harbour you are starting your journey from, you will be able to see our staff patrolling the water ensuring that everything runs smoothly and is ready to assist you if you need help.
You can contact us to find out more about yacht rental in Cyprus, what you need to bring with you, whether you need a license, the cost of the boats and our additional services.
*The prices mentioned on our website are indicative prices for a full day cruise. Of course, you can choose to rent a yacht for more or less hours or days. The price for each boat can change based on the additional services you choose
Yacht Rental Options
Yacht Charters
Choosing to rent a yacht with our professional skippers is an excellent idea for several activities. Whether you want to spend some hours, a full day or even have a night stay on one of our yachts, the experience will be memorable for you and your company.
Yacht charters are great for people who want the yacht experience without worrying about the route, driving, activities, food etc.
Self-Drive Yacht Rental
Take the chance to feel free by sailing in the beautiful sea of the island. You can make as many stops as you want to explore the bays, coves and crystal-clear water of Cyprus.
Whether you have driven a yacht before or not, just relax and enjoy the moment. There are professionals at each marina or harbour who are there to assist you and show you everything you need to know for your yacht driving experience.
Additional Services
Additional Equipment for Rent
We offer additional equipment for rent upon request. You can rent equipment for several activities, always based on availability.
SUP board
Kneeboards
Fishing equipment
Towable inflatables
Scuba diving equipment
*There is an additional charge if the equipment is lost or damaged.
Additional Services
Music
Dining
Catering
Chef services
Drone shooting
Festive decoration
Bartender services
Photo and video shooting
FAQ
What happens in case of bad weather during my rental period?
The safety of our customers is our top priority. In the event of bad weather conditions, where a boat trip is dangerous or for any reason the weather makes it impossible, we will work closely with you to find the best solution.
Can I customize the itinerary during my yacht rental?
Yes, whether with a skipper or not, you have the flexibility to customize your itinerary during your yacht rental. Our experienced crew can suggest popular destinations and scenic spots, but ultimately, the choice is yours.
Can I bring my pets on board?
Whether you can bring your pet on board depends on the specific yacht you choose and other factors. Some yachts do allow pets, as long as they are well-behaved and do not pose a safety risk. However, it's important to note that bringing pets on board may be subject to additional fees. Please keep in mind that you will be responsible for your pet's behaviour and safety.
Can I rent a yacht for a special occasion, such as a marriage proposal or romantic getaway?
Of course. Our yachts provide a romantic and picturesque setting for special occasions. Whether you are planning a marriage proposal, celebrating an anniversary or someone's birthday, or looking for a romantic getaway, we can help you create a memorable experience. Just ask for the additional service you want, and we can arrange it for you.
Blog
If you are a water sports enthusiast and you are looking for the perfect blend between luxury and adventure, Cyprus is the best place for you to visit. The dazzling waters combined with all the aquatic activities can create a feeling of thrill and excitement while at the same time finding time to relax on your private yacht rental around the beautiful coastline of Cyprus. Here you can learn more information about Yacht Rentals for water sports enthusiasts in Cyprus.
Cyprus is an island with amazing and beautiful beaches, blue clear water and a very vibrant atmosphere. If you are a yacht enthusiast then Cyprus could become your new favourite summer destination. However, if you are looking for a more exclusive experience then you should consider renting a yacht beyond the popular summer months. The climate in Cyprus is great throughout the year and a yacht experience can be a great adventure throughout, spring, fall and even winter time. In this blog, you can learn more about the yacht experience in Cyprus beyond the summer months.
Corporate events are an essential part of how most companies' systems and are also a great way to build morale and strengthen teamwork and relationships among employees. Most of the time finding the perfect venue can be a difficult task since it always needs to be impressive and memorable. Yacht rentals can be an excellent choice and a unique experience that can take your corporate event to the next level. Here you can learn more information as to why yacht rentals for corporate events are an exceptional choice.